Amalfi Coast Wedding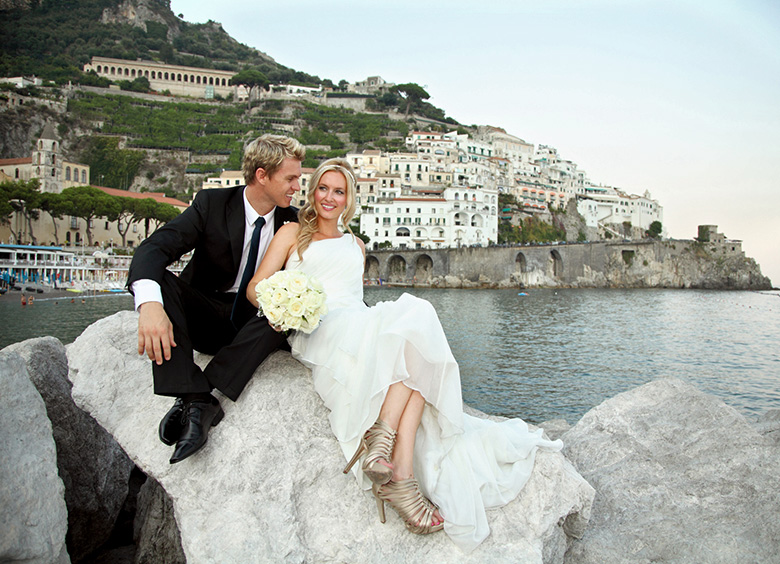 Religious, civil or symbolic Amalfi Coast wedding can be organized according to your needs. I provide many different options for ceremony, just ask, everything is possible.
RELIGIOUS WEDDINGS
If you want to be married in a Catholic church or by a protestant pastor, I can arrange
the religious ceremony for you.
CIVIL WEDDINGS
A civil ceremony can be held in a Town Hall of your choice.
For these ceremonies I will also be your interpreter.
SAME SEX CIVIL WEDDINGS
Recently the Italian Governement has approved weddings for same sex people and so even Gay Weddings are now possible in Italy.  Full assistance guaranteed for both paper and side services.
For more information visit our specific website www.gayitalianweddings.com
JEWISH, ALL PROTESTANT DENOMINATIONS & ORTHODOX WEDDINGS
If you are a follower of any of these religions, I am able to arrange the ceremony that suits you. These ceremonies can take place in any villa, garden or beach of your choice.
SYMBOLIC WEDDINGS ON THE AMALFI COAST AND ALL OVER ITALY
If you like a romantic and personal ceremony, celebrated in any venue you like, you are definitely looking for a symbolic wedding, or a vows renewal ceremony.
I can be your celebrant all over Italy.
CELEBRATIONS (ANNIVERSARIES & BAPTISMS)
I can organize your Amalfi Coast wedding anniversary, with a ceremony held in any church, or a Baptism for your children and such events.
To discuss the details Contact me