Mark and Amanda – 2019
My wife and I are so happy that we decided to trust in Raf to make our wedding day amazing! At first I felt comfortable planning our destination wedding on my own, but I quickly realized how many moving parts there are to make sure that everything goes smoothly; even for our small wedding of 14 people. I was referred to Raf by one of the churches that I reached out to via email in the early stages of our planning process. From the very beginning of working with Raf he was communicative, thoughtful, diligent, honest, and made us feel as though we were the only wedding he was helping plan! Every single detail of our wedding was perfect, beautiful, and exactly what we had pictured in our heads when we imagined our Italian wedding. The moments that Raf helped to create will forever be in our memories, and we will forever be grateful for Raf's attention to detail and treating us like his own family. If you decide to partner with Raf in planning for your wedding, you will find yourselves reminiscing your perfect day and writing a similar testimonial to this about a year from now! Side note, all of Raf's travel advice while we were exploring on where to park, what to see, and where to eat was much appreciated as well!
Words cannot express our gratitude Raf, you are amazing! Keep doing what you do; helping amplify love and happiness in the world!
Forever Grateful,
Mark and Amanda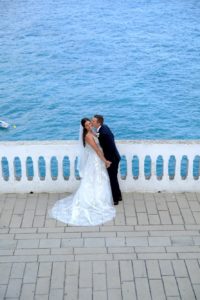 see more testimonials